Name: Fate Edgar Madison

Age: 17

Height: 5'3"

Weight: 113 lbs

Occupation: High school student / part time in her families fish shop

Power: (Reincarnation/ Animation) over all ability to create and control life energy

DrawBack:(mixes ink with blood / proportionate to the amount of power) her powers keep her from getting emotional close to others.

Bio: Faye Edgar Madison. 17 year old girl with longer fierce cherry red curls. She has grown up in at small desolate village in Dalvik Greenland with a population of only 1,400. Born with powers that she her self is only begging to understand. Gifted with the ability to create and control life with only a few strokes of a pen dipped in a mixture of blood and ink.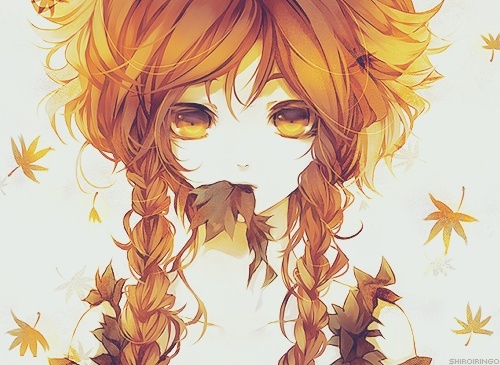 Last edited by nothingbutanonymous on Thu Jul 17, 2014 10:23 pm; edited 1 time in total
I couldn't tell you about a time when I wasn't like this. For as long as I could remember there was always something different about me. In a way I felt it. The feeling grew somewhere deep inside my stomach, swirling around like the wings of a thousand butterflies, but it wasn't until that cool late September day that I finally knew I was destined for something much greater than anyone else could begin to imagine.
    Looking back on it now the day that everything changed basically started out like any other day. I woke up at 6 am. brushed my teeth and headed down stairs. At the top of the stairs I could hear my fathers bellowing voice echo and bounce off the wooden walls of our cottage like home. It wasn't much but it was cozy and enough room for my parents, four brothers and I. My parents didn't come from much, but they were hard working. My mother, on top of home schooling all five of her children, maintained the house. At any given moment you can look over at her long light slim figure holding a pile of laundry, fixing the collar on one of my brothers shirts, or preparing our evening meal. My Father on the other hand, was a loud, full, hardworking lumber jack like man who was the proud owner of a small family owned bait and tackle shop that he built from the ground up.
    After a breakfast of hot tea and pickled locks on toast I began the half of mile venture to the nearest market. I carried with me only a knapsack that hung off the side of my hip. In it contained the possessions I could not bare to live with out for even the shortest period of time, my heart shaped locked that inside the brass frame was a picture of my dear great grandmother. She who inspired me to love books, writing and art with her fantastic stories of mythical giants and forsaken wizards. Next was my leather back journal that my mother gave me for my 12 birthday and since has not left my sight, for inside of it holds all my deepest most personal thoughts. Lastly my fountain pen an ink that bring my inner most ideas to life.( Not until later on will I find out how literal that sentence is.)
    I pulled out the crumpled list and money that once sat in the front pocket of my knapsack. Mothers hand writing always had a elegant flow. So much so that even the words "eggs, butter, milk" took on an almost artistic appearance. As I continued to stroll through the market my eyes scanning over apples, dried vegetables and freshly caught fish, I saw him. My heart stopped. The boy with crystal blue eyes. What a beautiful boy.
    His name is Arek, he is the vendors son. He works with his father and I see him every three months or so when the new shipments come in. He is flawless with a smile that melts my own. I convinced my self that he would never notice me. He was polite as we talked over the goods but it wasn't enough for me. I wanted to get to know him. I pulled out my journal and flipped over one the empty fruit crates sat and casually sketched him from a far. Glancing up occasional to try to understand the dimensions of his perfectly shaped jaw and protruding collar bones. Above his picture I wrote the words "Notice Me !" After several memorizing minutes of staring at this boy I was jerked out of my daze by a grumpy greasy old man who smelled of fish and petrified feet. His lumpy body knocking me to the floor, I reached out my hand to try to catch my self but it was to late. My hand has landed on a nail that had fallen out of a fruit crate. After a minute of contemplating I pulled the nail out there was blood flowing from the newly punctured hole. I looked up to see where the disgusting old fart had gone but he kept walking I assumed. I fumbled through the pages of my journal trying to gather up my papers bleeding on my sketch. My beautiful man now covered in red.
    Then suddenly as if magic he was standing above me. His hands around me lifting me to my feet. His crystal blue eyes staring in to mine. I was in shock. There he was he noticed me, he was touching me, he was helping me. My heart beating a thousand beats per-minute. That is when I knew.


Similar topics
---
Permissions in this forum:
You
cannot
reply to topics in this forum